To be a real Facebook ad superstar, you need to have an end goal, an idea of your target audience and a good campaign objective. You also need to have competitive bidding and strategy know-how to outsmart your biggest competition. But before we can get into how to beat your competitors, you need to understand who your competitors are, who they have been targeting on Facebook and what their ads are offering.
Analyzing Your Facebook Competition's Data
As we learned in our How to Spy on Facebook Competitors post, you have valuable insight into their Facebook campaigns right in your newsfeed.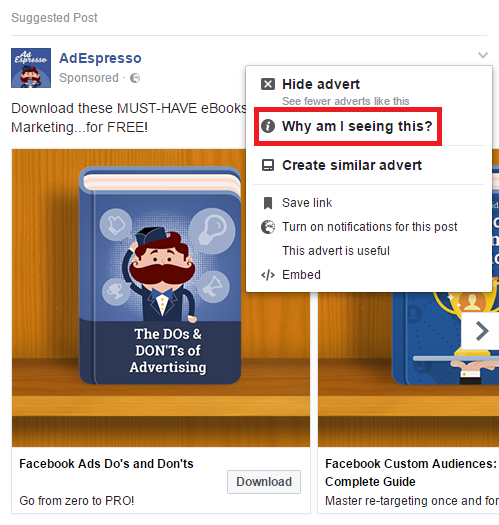 By clicking 'Why am I seeing this?' in any of the ads you see in your newsfeed, you will have access to tons of data that can help you.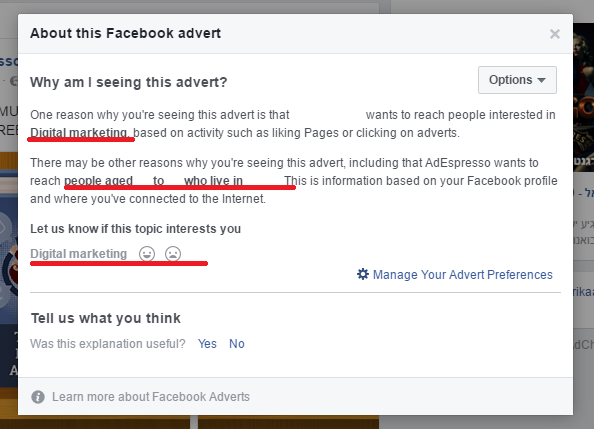 Analyzing Your Facebook Competition's Ad Strategies
Next, you will want to look at the ads your competitors are running from a creative standpoint. Two of the key things you want to look for are substance and structure. These are areas where a lot of online stores are lacking, and therefore where you can really outshine when creating your Facebook campaigns.
By substance I mean relevancy and added value. A good Facebook ad needs to add value to your potential shopper whether it is through blog content, a time-sensitive sale, or great video content that doesn't just shout out a product but shows the value of what that product brings. We saw a great example of this in last week's post, Hot eCommerce Marketing Trend: Facebook Messenger Ads, which already has over 4 million views.
Here it is again in case you missed it:

By structure I mean basic ad structure: Are the headlines on point, does the description match what the user expects when they click the URL and does the CTA make you want to find out more? You should be able to tell from these components what pain point their product solves, how it solves it and what to do next.
Now that you have a better view of the Facebook competition landscape, let's jump into how you can kick some Facebook ad butt with 4 ways to beat your competitors at Facebook ads.
1. Use Facebook Budget and Bids Strategically
The first point we will look at is a little more technical: Facebook bids and budgets. If you're a newer advertiser, this can get a little confusing. The trick is to look at Facebook bidding as a giant advertising auction, if you will. Using the right bid for your objective can make a big difference. Your main bidding strategies include:
CPM Facebook Bidding, which allows for bidding on the amount of impressions your ad gets within your target audience.
CPC Facebook Bidding, where you pay and bid on the amount of clicks you get.
Facebook Conversions Bidding, where you are bidding on reaching people who are more likely to fulfill the ad objective you have set.
Optimized for Daily Reach, which will show your ad to as many people in your target audience as possible.
Bonus Content: Facebook Ad Bidding 101
Say you are one of three fitness product stores bidding for Facebook ad reach. If you all have the same target audience, are in the same niche, have ads with the same good substance or relevance, then the bid will be the deciding factor. As you can see, whichever bidding strategy you are using, substance and relevance play a big role in winning bids.
The pro tip in making bids and Facebook budgets work in your favor and essentially allowing you to bid out the competition, is by choosing manual over automatic bidding.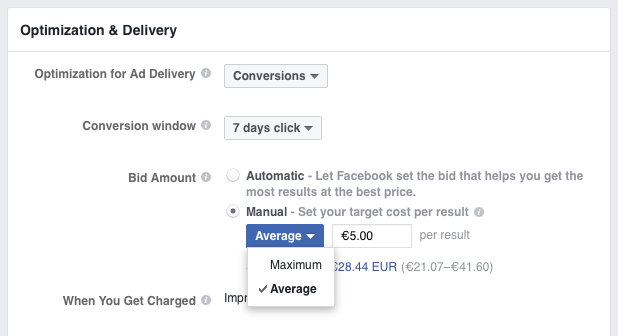 When you choose 'Average' manual bid, you are letting Facebook know the average amount you're willing to spend per conversion. This will ensure that Facebook sticks to the amount you want to spend while ensuring it delivers the best results for your spend.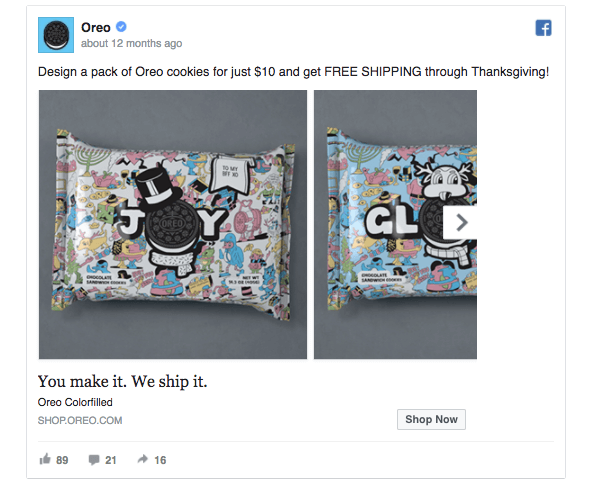 Pro Tip: Holiday Bidding Strategy
With Thanksgiving weekend and other big holiday sale days coming up, competition will be exceptionally tight. To improve visibility of remarketing ads during this time, optimize your ads so that you bid impressions – to remarket to people or site visitors who already know your online store. Why? Because this target audience is more likely to convert anyway and therefore you will want to ensure as many people see your ads as possible.
But what about budgets?
Here's the thing: Facebook's number one goal is to spend your budget. If your ad set is not performing and therefore not on track to spend the full budget, your ad delivery will suffer. Here is how Facebook handles such ads and what you can do to correct it.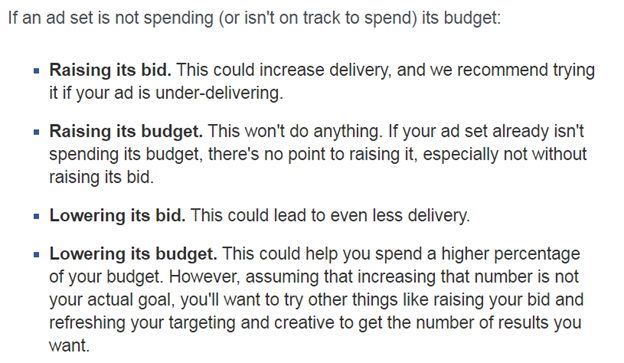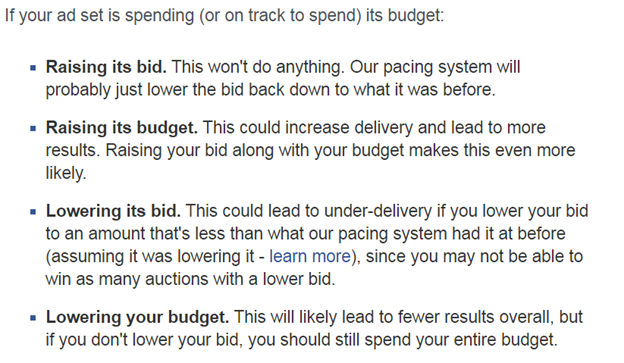 2. Provide Incomparable Customer Service Through Messenger
The importance of instantaneous customer service can not be overlooked and Messenger ads will help you bring the kind of personal attention you need to woo customers away from the competition. If you're still unconvinced by the power of Messenger marketing and customer service, then try this on for size: Recently Facebook Messenger manager David Marcus stated that business and conversations done inside Facebook Messenger between brands and customers have a 30% greater ROI than web retargeting ads.
By leveraging Facebook Messenger ads you are able to target potential shoppers one-on-one while providing unrivaled customer service to boot.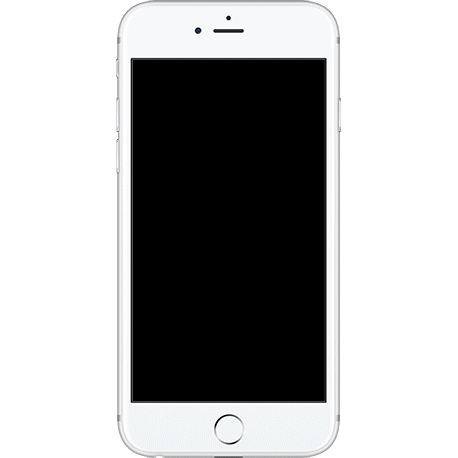 So where do you start?
If you're a new online store with a limited budget, you don't need a fancy Facebook chatbot to handle queries for you. Simply making Messenger accessible through ads and on your site can go a long way to providing the type of service that sets you apart from the competition.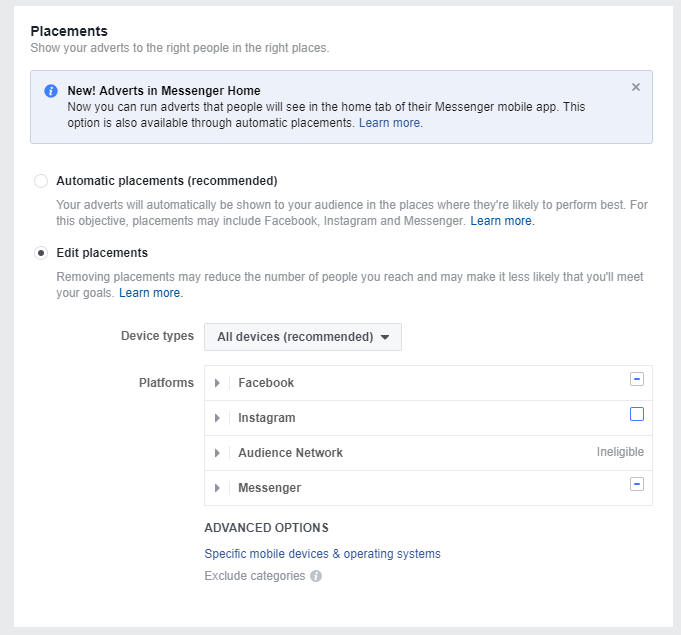 You can find out more in our Full Facebook Messenger Ad Guide.
3. Target Potential Shoppers Whose Interests Include Your Competitors
I am sure by now you that one of the biggest advantages of Facebook ads are its unprecedented interest-based targeting abilities. Interests can be either broad, such as 'fitness,' or narrow, such as 'fitness gear,' or even more narrow, to include brands and products. This provides advertisers such as yourself with an opportunity to actually target potential shoppers who are interested in your biggest online store competitors within your niche. When you are targeting people interested in a competitor's brand you are actually targeting their biggest fans and therefore people who are much more likely to be interested in the niche you're selling in.
Let's say you are in the wellness and fitness niche and your biggest competition is Lululemon; then you can target people who are interested in and/or are fans of the Lululemon brand.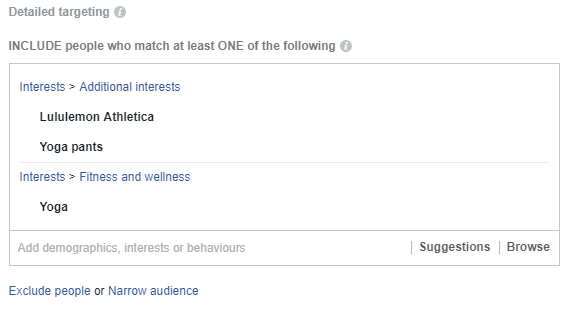 Interest-based targeting of competitors is definitely something you should be experimenting with to be able to compete in Facebook ads in your niche and get great reach potential. The above example, for instance, could bring you a possible audience of 150k.

4. Use Lookalike Audiences to One-Up the Competition
When it comes to beating your competition on Facebook, Facebook lookalike audiences, with the help of Facebook pixel, allows you to mirror your converting shoppers and target similar potentials. The advantage of this is that you're then targeting people more likely to push the checkout button on your site and therefore require less coaxing. The more quickly you can convert, the more quickly you can nab potential buyers before your competition does.
You can create up to 500 lookalike audiences from a single source audience, meaning you can segment each of your lookalikes further depending on location and tailor ads specifically. Here's a quick how-to to create lookalike audiences, once you have created a Facebook pixel.
Step 1: Select 'Audiences' in your Facebook Ad dashboard and then 'Lookalike Audience.'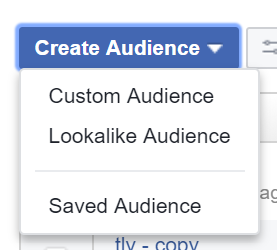 Step 2: Next, choose your source, location and audience size.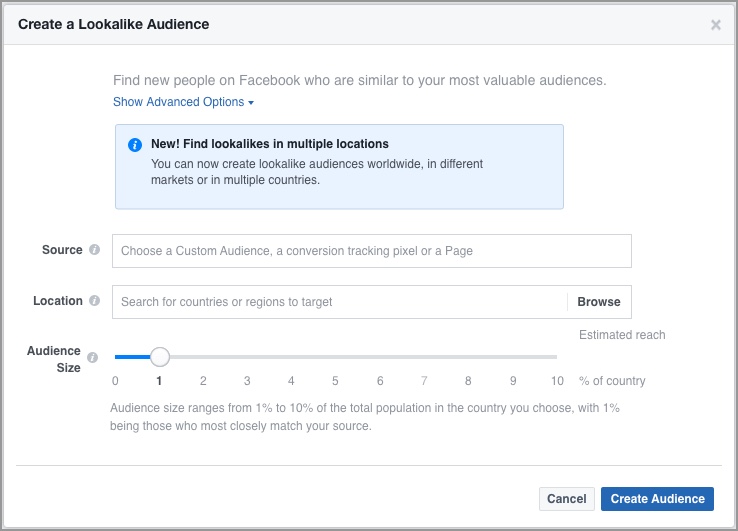 Note: According to Facebook, it can take up to 24 hours for your Lookalike Audience to be created. After that, it'll refresh every 3-7 days as long as you're still actively targeting ads to it.
When choosing a source, you'll want to choose the pages where the traffic does not have the highest intent to buy, such as a 'Thank-you for shopping' or 'checkout' page. And if you combine this target audience with the tip mentioned above, you will be able to narrow down your targeting to the perfect set of potential shoppers: those interested in online stores like yours, who have shopped at stores like yours and who are much more ready to buy.
—
And that, eCommercers, is how you beat your competitors on Facebook. Stay tuned for upcoming posts on best strategies for the coming holidays and remember, if you have something to add we would like to hear from you in the comments below.
Happy Facebook selling!